Tailgating in Lexington, Kentucky for the Kentucky Wildcats Game
Submitted by
Rusty
on Fri, 09/27/2013 - 8:00am
GatorTailgating.com is doing a series of articles on where and how to tailgate at all of the Gator Football away games. This article details where and what to look out for in Lexington, Kentucky for the Kentucky Wildcats. Go Gators!
1. Where are the good and bad areas of town for motels to stay in the night before/after the game in Lexington?
There are two big hotels downtown near Rupp Arena and an inexpensive shuttle runs from them to Commonwealth Stadium on football game days. It's convenient and will save you the hassle of being in traffic. If you are taking a vehicle to the stadium to tailgate, downtown is still not a bad place to stay as those hotels have more restaurants and bars near them than any others in the area. Your team will almost certainly stay in one of the two big hotels downtown and it is always fun to encounter your team on the road like that.
If you like to golf, the Marriott Griffin Gate has its own course, but it is out by the interstate and not really close to the downtown area. The Embassy Suites across from the Griffin Gate is nice as well.
2. What are some attractions in Lexington that a visitor shouldn't miss?

Being that Lexington is the Horse Capitol of the world, most of the tourism revolves around Thoroughbred racing. If you want to learn about that, don't miss the Kentucky Horse Park, Keeneland Thoroughbred Racing, Tours of Tradition, or the American Saddlebred Museum. This isn't something that is advertised much but there are gorgeous views if you take U.S. 60 out of town, west toward Versailles and Louisville, and follow it until just before it hits Interstate 64 near Frankfort. You'll drive past many pretty horse farms and get a real feel for that part of Kentucky. Then, take a right just before I-64, and you'll be taking a back way through those same farms along an old road with old stone walls along the backs of the horse farms. It is very pleasant, and unlike anything you'll find anywhere else in the country.

Although there aren't any Bourbon distilleries inside of Lexington, there are many a short drive away. You will enjoy visiting the Woodfurd Reserve, Four Roses, and Wild Turkey Distilleries. As for the night life in Lexington, you will love the local music at places like The Dame and The Tin Roof where local bands play regularly. If you're looking for more of the Country music and dancing to get the Bluegrass feel, you'll love the Austin City Saloon and Redmon's Dowtown. If you're more into the Hip Hop and local DJ talent, you can find that in clubs like the Sky Bar and Hugo's. Lastly, there are also more relaxed bar setting like Rosebuds and The Penguin. Whatever your looking to do on the weekend you're in Lexington, you'll be able to find it because of their wide array of places to visit and things to do.


3. Where should a visiting fan go to eat before leaving Lexington?

Tolley-Ho. You can walk to it from the stadium, straight through campus. It is the ultimate greasy spoon college joint; it's open all night, serves all sorts of great breakfast food 24 hours a day along with great burgers, shakes, etc. Hit it while in Lexington, you'll love it.

There's also a strange little place called Charlie Brown's that's really neat. When you enter, it's this dark place with couches and bookshelves all over, and a bar in the back corner; they'll have games on TVs but it's a much more mellow feel than a typical bar, but a great place to go to hang out with friends. There's a deck in the back with games on TV that's a great place after a game in September. The food is not outstanding but it's off the beaten path and enjoyable.

Joe Bologna's is right off of campus; they took an old church, built a sort of loft in it, and turned it into a sort of two-floor pizza place with a superb deep pan. If you like that, drop in there and get a big pizza. Don't underestimate how much pizza you'll get though, 'cause they serve it up good there.

There's a place called Ramsey's that I nice too. it is centered on sort of down-home cooking but it is good food and generous portions and a pleasant place.

Merrick Inn is probably the best place for local flavor. They are consistently voted the best fried chicken in Kentucky. If you're wanting a really nice dinner, Malone's Steakhouse is rated in the top 10 of the entire US.

If I were visiting Lexington just for the game I would eat dinner at Merrick Inn or Joe Bologna's the night before, depending on whether I wanted a nice dinner or just a fun filling one, and then I would hit Tolley-Ho after the game, maybe going to Charlie Brown's or Joe Bologna's the day after the game if you aren't leaving town too early.


4. Is there an area or a part of Lexington that the visiting fans usually congregate/tailgate/park? If so, any address or directions on how to get there would be a big help. If visiting fans usually spread out all around the stadium, help us by telling us where the best area to tailgate is with the most room.
The above parking map is color coded in case you have parking passes. If no, read the paragraph below.
UPDATE FOR 2013: The Bluegrass Gator Club and Windy City Gator Club have joined forces and will be hosting a tailgate on Sports Center Drive near Cooper Drive on the Kentucky Campus. Look for the Gator tents and flags.

Southern BBQ will be cooked on site and it's only a 10 minute walk to the stadium. Visit here for more info and to sign up!
A lot of visiting fans seem to park at the church that sells parking. You would get there by taking Alumni Drive east of this map (bottom right corner, "To New Circle Road" arrow pointing to the right). You can walk to the stadium from there but it's a bit of a walk - not too bad, but you're not right in the action as other spots would be.
There is parking closer than this, but a lot of it is pre-sold with parking passes and we're not sure if they're allowing parking in homeowner's front lawns this year as they've allowed in the past.

5. How much should we expect to pay for a parking spot (preferably unblocked so there's enough room to setup tents, tables, and a grill to tailgate)?

$10-30, depending on how close you get to the stadium and how much room you need.

6. Are there any special rules we should know about tailgating on or off campus, open-container policies we should be forewarned about, or anything of the sort?

You should put whatever you're drinking into a cup to avoid problems; don't wander around drinking out of a can or bottle. That's a good general rule anywhere other than Jacksonville, Florida. Cops aren't out locking people up for having a beer but why run the very minor risk when it's so easy to avoid.

Open containers are illegal in motor vehicles in Kentucky and you will get cited if you are pulled over and anyone in the car has an open beer of any sort.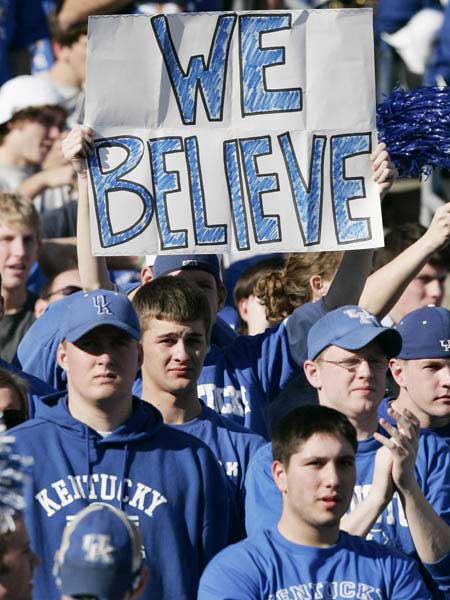 7. Any gameday traditions we should not miss while in Lexington?

The Cat Walk is 2 hours prior to kickoff and happens right outside of the stadium. Also, the playing of "My Old Kentucky Home" before kickoff is a longstanding tradition.

8. Is there anything else you would advise fans of before heading to Lexington to tailgate?
The visiting team exits Commonwealth Stadium to the west (the end pointing toward Nicholasville Road). The visiting locker room is in the southwest corner of the stadium and Florida's buses will be waiting for them right there outside the stadium. A truck or tractor trailer will be in that corner of the stadium for loading up Florida's equipment. Often, there will be a group of the visiting team's fans and family members waiting for them after the game in that corner of the stadium. This is a good opportunity for autographs after a Gator victory.
The weather is almost always nice when Florida visits but just on the off chance it isn't, bring a poncho. You can't bring umbrellas into the stadium.
Like anywhere, most Kentucky fans will be pleasant with you if you reciprocate, and visiting fans who jaw off can run into unpleasant drunks who demonstrate physically that they're not in the mood for it. The gameday crowd at Kentucky is not hostile and you can have some really good conversations with Kentucky fans who will enjoy talking with you (including about your great team and program) but every fan base has some jerks and Kentucky is no different, though probably with far fewer than you would encounter at, say, Tennessee.
Make sure to not just come in for the game and leave. If you've come all the way from Florida to Lexington, KY, try to schedule an extra couple days to enjoy the attractions up here

---



GatorTailgating.com would like to thank WildcatNation.net for it's help in putting this info together.