The Five Stages of Tim Tebow
Most quarterbacks only take a knee at the end of games. Denver Broncos quarterbackTim Tebow does it all the time, and boy are people getting irritated with that.
Granted, the religious element is just one element of a tapestry of a man whom, I'd imagine, most sportswriters have tired of discussing. Whether it's his faith, his Vespa-like delivery, or ESPN's incessant fawning over him, the "guy that just knows how to win" seems to be gaining detractors with every improbable victory.
In any other walk of life, this would be celebrated universally. But the NFL is unlike any other culture on Earth, and so even as Tebow and the Broncos march toward a possible playoff berth, some fans and media alike are still a bit peeved with the Tim Tebow experience.
How many things about Tim Tebow can we possibly write?
That emotional roller coaster, which has been climbing exponentially for nearly two whole months, is worth investigating.
Denial
"He can't play. He can't throw. I'm not here to insult him. The reality is he was a great college football player, maybe the greatest college football player of his time. But he's not an NFL quarterback right now.

Just because he's God-fearing, and a great person off the field, and was a winner with the team that had the best athletes in college football, doesn't mean his game is going to translate to the NFL."

-Boomer Esiason, August 2011.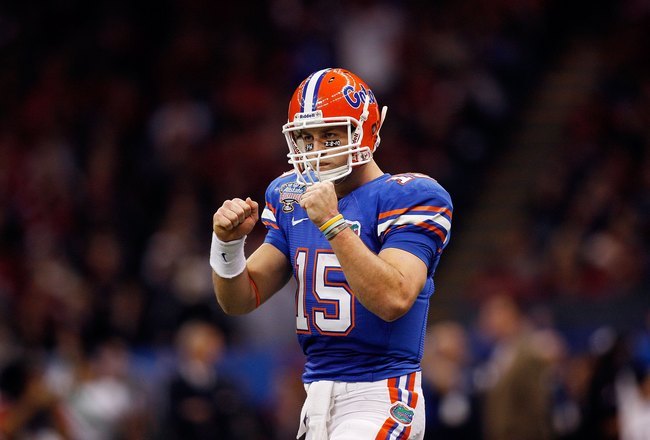 Chris Graythen/Getty Images
The laundry list of issues with Tim Tebow's game has been well-documented. They were ultimately confirmed by Broncos head coach John Fox, who set out to create an offensive scheme around his young quarterback's strengths. This adjustment was forever immortalized by Fox when he famously quipped, "If we were trying to run a regular offense, he'd be screwed."
To some extent, the team was screwed anyway; in Tebow's first five starts, he completed less than half of his passes, including that horrendous 2-of-8 game against the Chiefs.
Tebow completed exactly half in his sixth start. And yet the Broncos went 5-1 in that stretch. While Tebow was unproductive through the air, he was serviceable on the ground and rarely turned the ball over.
When the defense was able to keep those games close at the end (only 15 points allowed or fewer in four of those five wins), Tebow had a chance to atone for his first three quarters.
And atone he often did.
There was the 15-point fourth-quarter rally against Miami that started it all (and led to the Lions' rendition of "Tebowing" the following week). He ran for more than 100 yards against Oakland. One of those two completions against the Chiefs went for a 56-yard score. And then the nationally televised game against the Jets, where Tebow led a march down the field, culminating in Tebow's scamper into the end zone.
Every week, Tebow looked rough for three quarters. And almost every week, Tebow did enough to help his team over the hump.
This was not supposed to be happening.
Anger
"If I never hear the name Brett Favre again or Tim Tebow—listen, Tim Tebow is a good player, I wish him luck—but if I never hear the (words) Brett Favre or Tim Tebow again, it won't be enough, trust me."

-Charles Barkley, December 2011.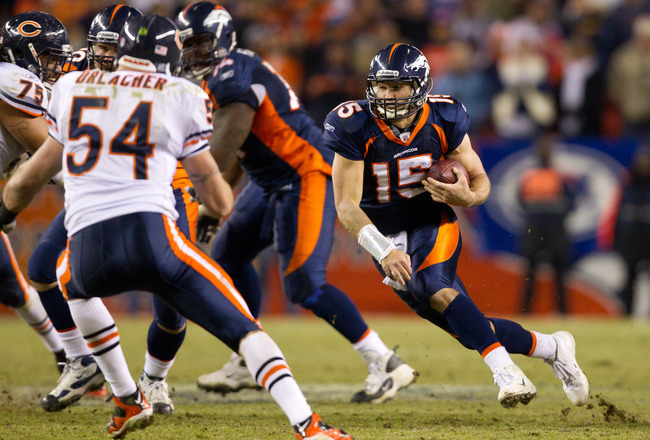 Justin Edmonds/Getty Images
One wonders if Sir Charles would ever tire of, say, watching George Mason winning back-to-back national championships in basketball or, I don't know, Uganda sweeping the luge events in the Winter Olympics.
His palate for the improbable has been sated. Enough, others have said. Let somebody else win now. Somebody with a quarterback that can complete passes in the first three quarters of a game.
Speaking personally here, I have never been as emotionally involved as I have been in watching the endings of these Broncos games over the last month.
Over the course of my life, I watched my favorite football team play in the Super Bowl, my favorite baseball team win the World Series and my college's football team win the national championship in my senior year there. And never did I jump off a couch and squeal like a little girl like I did with seemingly every other play in Denver's win against the Bears last Sunday.
I was in the moment, enamored. I celebrated both Matt Prater field goals
Bargaining
"In any other team, Von Miller's insane performance would grab the headlines. He's already a Pro Bowl player and the best player on the Broncos.

Miller is the main reason the Broncos offense can pick up two first downs in 10 drives and still stay close enough for Tim Tebow to do his thing on the last drive.

There is no Tebowmania without Von Miller."

-Gregg Rosenthal, after the Broncos beat the Jets, November 2011.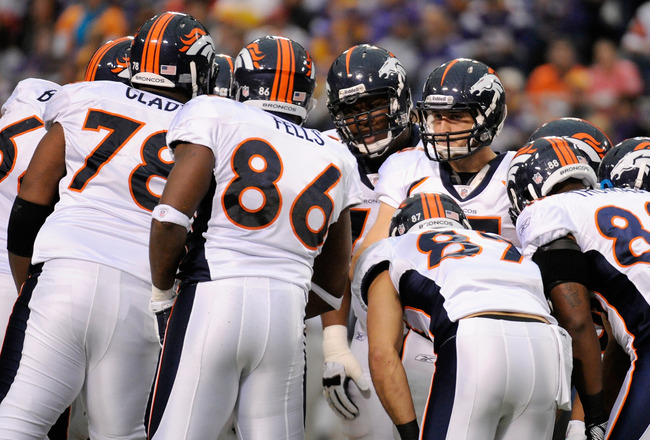 Hannah Foslien/Getty Images
This is often followed by sarcastic comments about how many tackles Tim Tebow made or how many field goals Tim Tebow kicked.
These passive-aggressive comments weren't funny the first time you heard them two months ago, and they're even more unbearable now.
Realizing that their criticisms of Tebow are falling on deaf ears, the critics now resort to complimenting the players around him.
While those plaudits are certainly legitimate, the tactic is not unlike your mother-in-law coming into your house and talking about how successful every other person in her life is doing, and then conspicuously failing to include you on the honor roll (my in-laws don't do this, and I only point that out because A. I know they're reading this, and B. I'm staying in their house in less than two weeks. 'Tis the season.).
Instead of reveling in the proverbial woman being sawed in half and then lamenting it, sports columnists are tripping over each other to tell you that, hey, there's actually two separate people in that box.
Okay. Fine, but why get so excited about it?
No other scribes in any other walk of life felt the need to state (and regularly re-state) that Mick Jagger had Keith Richards and Charlie Watts while selling 200 million albums as the Rolling Stones, or that Jennifer Aniston played off of Courtney Cox and Matthew Perry in their 236 episodes of Friends.
One could envision them driving to every mall within an hour of their respective homes, rampaging toward Christmas displays and screaming about how that Santa in the chair is a fake and he doesn't really exist.
They're doing us a service, you see.
Depression
"The Broncos are the topic of conversation. They've overshadowed better teams such as the Packers, overshadowed remarkable pursuits such asDrew Brees' assault on the record book."

-Jeff Legwold, December 2011.
Adam Bettcher/Getty Images
Aaron Rodgers spent his Sunday blowing out the Oakland Raiders at Lambeau, where the tundra was a bit greener than usual for this time of year (both from the absence of snow and the influx of cash coming from the team's new stock offering).
The Packers won by 30 points. While Tebow (and his teammates, of course) were keeping their regular date with pandemonium, Rodgers was on the sideline, wearing a cap, probably wondering where he was going to eat dinner that night.
Nobody has been more impressed with Rodgers than I have this season, but a comparison Rodgers to Tebow is not only unfair to the subjects involved, it would be an act of fallacy.
Rodgers looks like a NFL quarterback and can throw like one, too. His conformity is comforting, as conformity comforts all of us.
We loathe change as a people. It makes us grumpy, and we jump at the chance to tell anyone how much it irritates us—if you don't believe me, just wait for the next Facebook update to roll out.
We like watching Aaron Rodgers for the same reason we hate watching Navy football, because he delivers and does so with a convention of our liking.
Acceptance
"Yes, we may debate whether an NFL quarterback can be successful if he isn't a very accurate passer. And yes, we may argue over whether his outspoken Christian piety—the home-schooled Heisman Trophy winner is known for eye-black evangelizing—makes him more likable to fans or more likely to induce eye-rolling for his wholesomeness. But one thing is for certain: He is winning games for his team.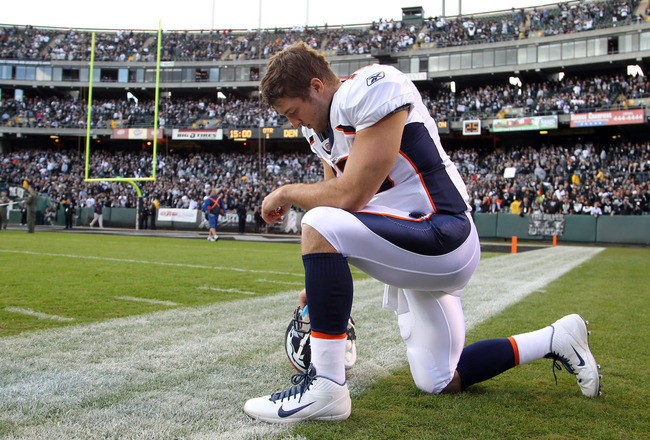 Ezra Shaw/Getty Images
This is a saga to be embraced, and I think everyone is doing that in their own way. Just because I hated Anchorman doesn't mean that I'd expect everyone else to despise it exactly the same way I do. Yeah, that's true. I hated Anchorman. I walked out of it when Jack Black kicked the dog over the bridge. I just didn't get it. But my point of bringing it up is that I acknowledge that not everyone would react the same way.
Love Tebow. Loathe him. But at least appreciate that he makes us care, that he pops the bubble that we often find enveloping professional sports today.
---
Josh Zerkle is the NFL Lead Writer for the Bleacher Report. Click Here to read more of his work.
EXPLORE SIMILAR STORIES
| | | |
| --- | --- | --- |
| 11.09.15 | | |